The following is a list of workshop events that will be held at WiSEE 2023. It is possible to submit a peer-reviewed paper to a workshop by selecting the corresponding acronym during the submission procedure.
Space-Terrestrial Internetworking
(STINT)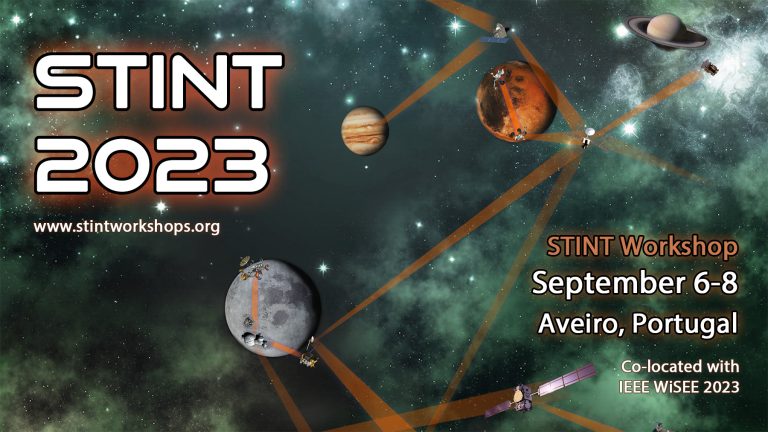 The Space-Terrestrial Internetworking (STINT) Workshop addresses emerging technical topics related to data exchange between and amongst space-based and terrestrial network nodes. Such communications systems accept space assets as first-class nodes performing common network functions including stateful packet inspection, routing, management, and security. More information in the dedicated website.
Non-Terrestrial Networks for 6G systems
(NTN6G)
Workshop chairs:
Alessandro Guidotti, CNIT-University of Bologna
Alessandro Vanelli-Coralli, University of Bologna
Tomaso De Cola, Deutsches Zentrum für Luft- und Raumfahrt (DLR)
Konstantinos Ntontin, University of Luxembourg
Mohamed El Jaafari, Thales Alenia Space France
Today, 5G networks are being worldwide rolled out, with significant benefits to our economy and society. However, terrestrial 5G systems alone are not expected to be sufficient for the challenges that 2030+ networks will experience. In this framework, the integration of the satellite industry in the 3GPP ecosystem is now a reality thanks to Rel. 17, in which the features for 4G and 5G systems to support a non-terrestrial component are specified. Further studies are already on-going to define 5G-Advanced (up to Rel. 20) and 6G (beyond Rel. 20) specifications, in which Non-Terrestrial Networks (NTN) are globally recognised as a key enabler of a unified, rather than integrated, 3D terrestrial/non-terrestrial network infrastructure. Such architecture will combine terrestrial, air-borne, and space-borne Radio Access Networks, including both standalone nodes and mega-constellations, for the convergence of the physical, human, and digital worlds. Aiming at efficient and flexible network operations, the global architecture shall be autonomous, intelligent, self-organizing, and resilient, in which the ground, user, and space segments are expected to witness a major breakthrough in technologies and techniques.
Topics of interest include, but are not limited to:
o Network architecture
o Cognitive radios and emerging technologies
o Localisation, detection, and tracking
o Standardisation and regulation
o Free Space Optical communications
o Quantum communications
o Artificial Intelligence and Machine Learning
o Antenna design and processing
o Propagation modelling and channel description
o 6G verticals for NTN
o Joint communication and sensing
o End-to-end Security paradigms
o Network orchestration and service provisioning
o Spectrum farming
o NTN-enabled IoT concepts
o Routing for dense multi-orbit space networks
o Unified air-interface
o Edge computing and caching
o Horizontal/vertical handovers
o Unified waveform design
o Software-defined networking
Glue Technologies for Extreme application scenarios
(GTExt)

Workshop chairs:
Prof. Claudio Sacchi,. University of Trento

Alessandro Guidotti, CNIT, University of Bologna
Aerospace communications are now evolving to the "Space 2.0" paradigm, which is based on the concept of space intelligence, i.e., the capability of building and orchestrating a networked cognitive space environment. In this context, the terrestrial and non-terrestrial components will be unified towards a 3D network architecture, providing global, ubiquitous, resilient, and always-on communications. Such a system architecture would be particularly beneficial in emergency situations, e.g., after an earthquake or terroristic attack, when the terrestrial infrastructure alone might be disrupted. A flexible and self-organising 3D network would be capable of promptly providing connectivity on-ground to the first responders and, in general, for emergency communications. In this context, glue technologies constitute the necessary common platform for the innovative systems based on the non-terrestrial components (e.g., satellites, drones) that shall be deployed in the near future.
Topics of interest include, but are not limited to:
o Network architecture
o Cognitive radios and emerging technologies
o Localisation, detection, and tracking
o Standardisation and regulation
o Optical communications
o Quantum communications
o Artificial Intelligence and Machine Learning
o Antenna design and processing
o Propagation modelling and channel description
o NTN for emergency scenarios
o Software Defined Radios for resilient communications.
o Software Defined Networking and Network Function Virtualization in extreme application scenarios.
Telemedicine for Space and Extreme Environments
(TLMSEE'23)

TELEMEDICINE
Telemedicine (TLM) as a new enabling technological process stands for 'healthcare at a distance' and integrates the four most promising technological development pillars of wireless, smart devices, artificial intelligence and mass production. These are geared up for health under a unique timely cooperative opportunity of health organisations, academia and industries. This process should coin a new revolutionary paradigm enabling experts to collaborate to save lives and enhance the health of
patients without the need to be physically present.
ENVIRONMENTS
Centuries of tedious industrial effort and thousands of years of curiosity and exploration reaching to outer space, discoveries of underwater resources and excavating of the inner underground have revealed potentially excessive health issues. Fear of the unknown risks facing our expert crews and explorers have been slowing down our mission critical projects. We need to ensure a minimum level of data for their environment and associated health issues before planning a project.
From the health point of view and the provision of the required TLM service we divide our environments into three groups of (a) earthly habitable environment for normal evolutionary life; (b) earthly unconventional harsh environment (UHE) which typically includes arctic areas, industrial workplaces, dense cities, bare deserts and hostile mountains and (c) space and other extreme environments (SEE) which includes underwater and underground environments.
WIRELESS TLM SERVICES
Previously demonstrative cases showed the possibility of telemedicine, a distance surgery over traditional telecoms. The real impact however has been born as a result of wireless technology. 25 years of wireless technology, from the turn of the millennium, provides us with a unique window of opportunity to light up a new pathway to achieve our missing third technological revolution through the flagship of the telemedicine paradigm [1].
TLM can provide a very wide spectrum of services. It carries a unique and exceptional service-level and scenario infrastructural weight filling up a vast number of emergency, critical and conditional cases where timely access to experts is not feasible. It also works with very little selective lightweight equipment and devices but is fully supported by technical and medical experts using rich information processing resources providing sophisticated procedures for critical life saving in exceptional conditions.
SENSORS, SMART DEVICES & SMART SYSTEMS
Inspired by our natural five senses of human intelligence technical sensors have been developing continuously. Their natural features as smart sensors enable them to become key players in deploying TLM. The dawn of smart wireless sensors, along with their well-known seamless networking capability, form the wireless sensor network (WSN) with enabled information gathering and discovery solution features poised for new giant development steps.
As the core enablers of the TLM paradigm smart sensors adopt a higher level of automation, known as artificial intelligence (AI), seamlessly integrating closely related technologies such as IoT/IoE, networked robotics, distributed edge processing and a whole new innovative family of superior scenario-specific-applications fostering enhanced WSN (eWSN) solutions. Then, considering the new features of eWSN solutions a whole new range of TLM service scenarios become prime candidates for TLM-SEE as well as gradually transforming UHE into healthy living and working places.
SCOPE
Workshop welcomes contributions from academia, advanced organisations and innovative industries who support the IEEE's humanity promise: 'engineering for humanity'.
The publishable research and survey papers are expected to be within the
following areas, (CfP link):
Innovative ideas to promote our Telemedicine Paradigm.
Identification and solutions for SEE health issues and deployment
Identification and solutions for UHE health issues and deployment
Telemedicine solutions using WSN and eWSN systems for 'SEE' and 'UHE'.
[1] Rashvand, Habib F., Salcedo, V. Traver, Sanchez, E. Monton and Iliescu, Daciana (2008) Ubiquitous wireless telemedicine. IET Communications, Vol.2 (No.2). pp. 237-254. doi:10.1049/iet-com:20070361

Workshop chairs:
Christopher R. Valenta (Georgia Tech),
Reza Zekavat (Worcester Polytechnic Institute),
Darel Preble (Space Solar Power Institute),
Paul Jaffe (US Naval Research Lab),
Alessandra Costanzo (University of Bologna)
This workshop offers a forum for researchers, developers, and policy-makers to discuss SSP technologies, to advance the state of the art, to discuss supporting and related technical issues, and to take necessary actions. Accepted papers will be published at IEEExplore and presented at the workshop. The workshop accepts abstracts+talks and papers+talks. Papers should be submitted online and follow WiSEE 2023 format and submission approach.
Passive Wireless Sensor Technology Workshop
(PWST)

The workshop aims to bring Passive Wireless Sensor (PWS) technology developers, manufacturers and potential industry end-users together to understand the larger market drivers that will drive costs down and applications up. We will concentrate on Aerospace applications at this workshop, so capability that helps the aerospace manufacturing, mission and maintenance will be a priority.

Objectives:
Understand various PWST technologies, actual & potential uses, and maturity.
Share future applications/advantages/limitations PWST in various industries and agencies.
Precipitate individual & group "next step" thinking to further develop/apply PWST.
Continue building an accessible library of PWS Workshop publicly released presentations.