Registration Fees
Registration covers all WiSEE 2023 tracks and workshops.
All presenters must register before July 24, 2023 to allow a timely finalization of the conference program. Failure to register before the Author Registration deadline will cause the removal from the final program.
The WiSEE conference is co-hosted with the 13th IEEE International Conference on RFID ­­­Technology and Applications (IEEE RFID-TA). We are offering a combined registration at a lower price.
Each full registration can be associated with up to two (2) papers. Each student/life-member registration covers one (1) paper. Any registration covers only papers for which the registrant is an author/co-author.
On-site registration will be available at the registration desk during the conference. We would appreciate your cooperation in registering as early as possible, to allow us for the best organization of the event.
Student fee applies to attendees being either students or Ph.D candidates; proof may be requested at the conference reception desk.
Author Registration: before July 24, 2023 – Early Registration: before August 1, 2023 (11:59pm EDT)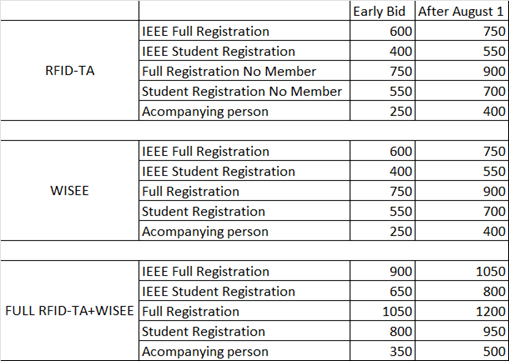 Registration fees (23% VAT INCLUDED)
The final version will be checked by TPC Committee.
The final version of the paper must be fully IEEE Xplore compliant.
We strongly encourage you to use the IEEE PDF Xpress tool at http://www.pdf-express.org/ with the conference code .
Note that to upload the Final Manuscript the following actions are required:
1. Provide the Registration Code associated to each paper. You can find it in the email you will receive once the registration payment will be verified. Please note that the payment verification process may take up to one working day. To guarantee the inclusion of the paper in the conference final program, the paper registration process must be concluded by July 24, 2023. Each registration can be used to cover a maximum of two accepted papers. It is worth noting that only the papers presented at the conference will be included in the IEEE Xplore® database;
2. Fill out the Copyright Form;
3. Select the presenter among the paper authors.
NOTES
To guarantee publication of an accepted paper and its inclusion in IEEE Xplore®, at least one author must be registered and the paper must be presented at the conference. The registration is mandatory to upload the camera-ready version after acceptance (deadline: July 24, 2023). Each registration can be used to cover a maximum of two accepted papers.
Cancellation policy: registrations are not refundable.